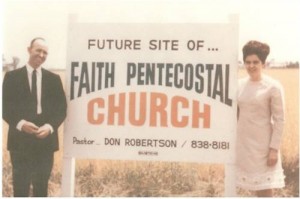 Faith United Pentecostal Church History
"Yes, we will build a church here, for our God is with us," said founding Pastor Reverend Edward Donald Robertson. With hard work and many projects God marvelously gave Pastor Robertson , wife Shirley, daughter Terri, and a small group of people the opportunity to purchase the property on which the present building stands. December 1973 was moving in time! The years that followed were filled with many trials but God gave victory through them all.  God's blessings have a way of outshining any trial.
Pastor Robertson was promoted to Glory on Sunday, April 15, 2012.  He loved spending time with his grandchildren, fishing, and sharing the food from his garden. He faithfully served the congregation at 3600 Caton Farm Rd with 43 years of sacrificial giving. Giving of his time, effort, and love.   A wonderful man of God has gone on to his reward.
Before he went on to his reward, Pastor Robertson made Noel Mirelez the Assistant Pastor of the Faith United Pentecostal Church of Joliet. Pastor Noel Mirelez and wife Rachel faithfully served under the ministry of Pastor Robertson for 33 years and have taught numerous bible studies.  Prior to his pastorship, he served as Sunday School Superintendent, Sheaves for Christ Director, and Assistant Pastor.